Dinamani Vellore Advertisement Booking Online at Lowest Rates:
Select Your Ad Format :
Economical, Simple Text. Charges per line/ word. Can be enhanced with Tick, Border & Bold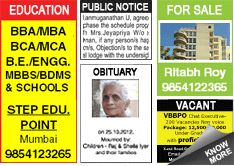 More Visible & Expensive. Include image, colour,font variations. Rate is charged on per sq.cm basis.
releaseMyAd is an online portal from where you can book ads in any newspaper from all across the country. In order to book a display ad in Mathrubhumi newspaper you can visit the Display Ad Main Paper. From here you can specify your ad size as 3.8 x 9 in order to get the exact prize for your a...
Related to:
Dinamani
Post date:
15/02/2014 - 02:33PM
Dinamani Vellore Classified booking Center
ReleaseMyAd Media Pvt.Ltd.
Thottapalayam,, Vellore, Tamil Nadu ,632012
Book an Ad
Additional Information
About releaseMyAd
Book an Ad
Vellore is famous for its medical treatments and education all over India. Several large industries like BHEL, Mitsubishi, MRF have manufacturing units here. Classified ads in leading Vellore newspapers are a low-cost yet effective way to advertise. Now, you can book classifieds in top newspapers of Vellore with our 3 step ad booking process within minutes. Use the following steps:
1. Select Ad Type and Ad Category
Begin booking classifieds in Vellore with the selection of ad type and ad category. Select text classifieds or display classifieds agreeing with your needs and budget. Choose from a list of categories like recruitment, property, business etc.
2. Compose Ad
Then, compose the ad. Add enhancements like ticks and borders for text classifieds. Use logos, images, colours for display classifieds
3. Select Dates & Make Payments
Select the dates for the release of your ads and clearing your dues for our services. Use our multiple payment options to clear payments with us.
Additional Information
Why choose releaseMyAd for booking classifieds in Vellore?
Vellore is a district in north-eastern Tamil Nadu bordering the present day Andhra Pradesh. It produces 37% of India's export quality leather goods. Vellore is known for its quality medical facilities and educational institutions. Vellore has been growing at a rapid pace owing to these industries. Classified ads in top Vellore newspapers are a low-cost advertising technique for the Vellore. The classifieds are pocket-friendly ads which can be used to target the consumers repeatedly. Moreover, classifieds are placed together in a special page or column. This makes them special and patrons can easily locate them. Booking classifieds is easy with releaseMyAd, as we are the number one ad agency in Vellore. Our online ad booking process has made ad booking very easy and less time consuming. Vellore advertisers book ads with us to:
Have a hassle-free ad booking experience with our 3 step ad booking process.
Get expert advice and multiple payment options only with releaseMyAd.
Avoid paying agents and middlemen to get your ads booked.
Advertise in Dinamani Newspaper Advertisements in Vellore Now!
About releaseMyAd
releaseMyAd is India's simplest classified booking service! Through our service you can book classified Ads for all leading Indian Newspapers – at no extra charges!
We are fully accredited by the Indian Newspaper Society (I.N.S.) - the primary governing body for all media publications. Furthermore, we have exclusive tie-ups with newspapers that enable you to release ads at the same cost as the newspaper in addition to enjoying special discounts!
You can book your Newspaper Ad instantly for any category such as Matrimonial, Property, Recruitment, Automobile, Travel etc. We accept both online and offline payments for advertisement bookings. Online payment options include Credit/Debit Cards & Net Banking (All Indian Banks), and offline options include Demand Drafts, Cheques and cash payments.
Contact us at:
questions@releasemyad.com
+91 33 4031 1111 (24 hours, Monday-Sunday, Standard STD/Local charges apply)